Resort Info
Trinity Mountain Meadow Resort is located in the heart of Northern California's Trinity Alps, situated at the exact point where the Klamath and Shasta National Forests meet, at an elevation of 5,072 feet. 



Getting to the resort is part of what makes its setting so unique. As you drive through the Trinity Alps you will enjoy breathtaking alpine views and granite peaks of the Klamath and Cascade Mountain Ranges. The last leg of the trip is an 18-mile country road that climbs 2,000 feet from the village of Coffee Creek (the last 11 miles are dirt that is suitable for all vehicles).

>> Click Here to Download a Google Map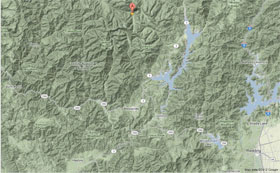 Activities
---
If your family enjoys hiking, your toughest decision each day will be choosing which of the numerous trails, including several to glacial lakes and historic mining sites, to hike in and out of. We'll even pack you a lunch before you head out for the day. 


For those who prefer a slower pace, the resort offers stunning views of its alpine surroundings, including glacier-carved peaks and wildflower-filled valleys, all from the comfort of our deck chairs and pool loungers.

Other family activities include fishing, swimming in the solar-heated pool, volleyball, horseshoes, ping-pong, and a lodge equipped with reading materials, board games, craft supplies, and a bar that serves wine, beer, and snacks. 

Evenings are a unique experience at the resort. Children are invited to an early dinner hour for a kid-friendly meal. After dinner our recreation staff takes the children out for an evening of organized fun and games. Meanwhile, adult guests retreat to the dining room for a delicious, multiple-course meal and conversation.

Throughout the week our recreation staff hosts scheduled activities and crafts. No stay at Mountain Meadow would be complete without an evening campfire and s'mores!
History
---
The area where Trinity Mountain Meadow Resort is located, also called Big Flat, first served as a trading post during the California Gold Rush. Abrams Cabin, built in 1849, still stands on the property as a reminder of the area's past. In 1932, Nate and Ethel Steele established a packing station to supply the miners in the area. By the late 1930s, the business had become mostly recreational. The Steeles built the log cabin in 1937, where they spent the winters of 1937 and 1938, in order to establish the mail route. As business grew the couple expanded the resort, adding the lodge and cabins in the 1950s. The lodge features two wood-burning stone fireplaces and houses the dining room, bar and common area. The expansive outdoor deck frames a picture-perfect view of the surrounding peaks and valley.

In 1976 a group of friends discovered that the property was for sale. They purchased the property and began operating it as a resort again in 1977. This group of owner-families continues to operate the resort, now for over 40 years.
2024 RATES
Weekly rates for our deluxe cabins are per person, and include food and lodging. Our weeks are booked Saturday to Saturday.
Adults: $1398
Third Adult in cabin: $1055
Children over age 10: $975
Children aged 2-10: $705
No charge for children under age 2
Booking with Mountain Meadow: We are currently taking reservations for the 2024 Summer Season. Please send an email to [email protected] if you have any questions or would like to make a reservation.
Deposit and Cancellation Policy: A deposit of $500 per person is due at the time of booking. The balance of your reservation is to be paid in full by January 15th, or within 1 week of booking if after January 15th. Cancellations made 90+ days prior to your arrival will be issued a full refund, minus a $50 processing fee. Cancellations made 60-90 days prior to arrival will receive a 50% return. For any cancellations made less than 60 days prior to arrival, the payment is non-refundable.
Meals
Each day at Mountain Meadow begins with the good food and friendly atmosphere that has become our trademark. Breakfast, lunch and dinner are included in our daily and weekly rates. If you plan to be away from the dining room during the lunch hour, sack lunches are available.

Our recreation staff supervises an early children's dinner and organized games. A second dinner hour enables adults to enjoy a relaxing family style meal.
Lodging
Cabins:
Our resort features ten guest cabins, each with its own unique setting and character. Our cabins retain a rustic charm, but with recent renovations and modern conveniences your stay will be cozy and comfortable.
Each cabin is heated, with individual bathrooms including showers. Each cabin can accommodate from two to six people. Linens are provided. A common washing machine and clothesline are available for guest use.

Lodge:
The lodge was built in the 1950's, and houses the dining room, bar and common area. The bar serves a variety of beer, wine, soft drinks and snacks all day long. There are wood-burning stone fireplaces in the dining room and bar areas. The expansive outdoor deck frames a picture-perfect view of the surrounding peaks and valley.

What to Pack:
Mountain Meadow's lodge and cabins are located within the rugged beauty of the Trinity Alps. At an elevation of 5,072 feet, days are usually warm and the nights are cool. Be prepared to dress in layers, to accommodate the changes in temperature. You may also want to bring a rain jacket just in case of a summer thundershower.
Most guests find it convenient to have a day backpack, water bottle and hiking boots for hitting the trails.
If you like to fish, you'll need your pole and fishing gear. There is both lake and stream trout fishing.
In our remote location, the resort generates its own electricity. The generator runs from 6:30 a.m. until 11:00 p.m. You will need a flashlight at night when the generator is off.
Our bar sells soft drinks, wine, beer, an assortment of candy and Mountain Meadow souvenirs. The nearest general store is one hour away, so if you have specific needs be sure to stock up before you come.
A beach towel is handy for use at the pool.
Don't forget sunscreen. At our elevation the sun can be particularly strong.
And, most importantly, don't forget to bring your spirit for relaxation and adventure!